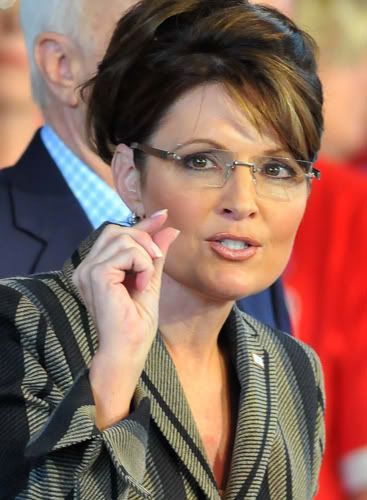 Sarah Palin called the President on the carpet Sunday, declaring that Arizona Govenor Jan Brewer has "the cojones" that President Obama lacks. At the time, she was discussing the issue of illegal immigration.
The former Alaskan govenor blasted the Obama Administration for suing Arizona to block the state from implementing their legally arrived at state laws, and drew attention to inconsistencies in his justice department's argument over Federal domain by drawing attention to the total lack of effort on the part of the administration to confront so-called "sanctuary cities", whose city ordinances prohibit local law enforcement officers from enquiring about legal residence, as reported at
UPI.com
:
"Jan Brewer has the cojones that our president does not have to look out for all Americans, not just Arizonans, but all Americans, in this desire of ours to secure our borders and allow legal immigration to help build this country, as was the purpose of immigration laws," Palin said.
And while she was
at it
:
"The former governor said the president and congressional Democrats "are all wet" on plans to allow the Bush tax cuts for the wealthiest Americans to expire. "It's idiotic to think about increasing taxes at a time like this,"
Wow! Right on the money.
By the way, the photo shown was not taken during her appearance on Fox News Sunday, nor was she referring to Mr. Obama, Harry Reid or any of the other Democrat mighty men at the time of its taking.
With a hat tip to
wizbang
.