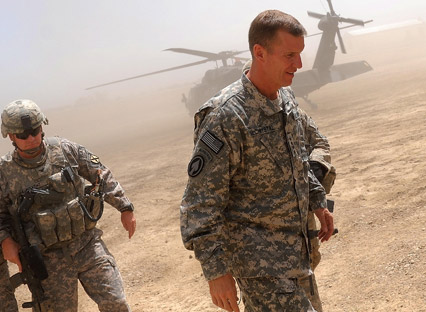 For whatever reason, Afghanistan Commander Stanley McChrystal granted Michael Hastings, a freelance reporter for Rolling Stone magazine, broad access to himself and his staff. For his part, Hastings repaid the complement by showing no discretion whatsoever in writing his article, placing on the record the candid comments of McChrystal and his staff, fully aware of the jeopardy his article would place the general's future in the military.
I have no idea why the general would allow such liberal access to an interviewer for Rolling Stone magazine, or why he would be so frank in front of Hastings in discussing his opinion about the civilians who are ostensibly in charge.
That being said, what the heck is
Obama
about? Is it time for another back room drubbing?
Mr. Obama better put away his toys. If he thinks this is the time for him to have a temper fit and stomp out of the room as he has with various other leaders, then he's got another think coming to him. This is the same Special Ops commander who was responsible for the capture of all high value targets in Iraq, including Saddam Hussien. He is the general who generated the current plan of operations in Afghanistan, the initiation of which was delayed for months while the President pondered.
The president was "angry," after he read the Rolling Stone story, calling the story "an enormous mistake in judgment. "The magnitude and graveness of this mistake are profound," Gibbs said.
In Obama's mind, an enormous mistake in judgment by a field commander is to question the President's focus and commitment to a conflict in which he has placed US troops in harms way? If so, we can see the general's point. A mistake of magnitude should be something a little more substantial then pricking the president's ample pride.
Perhaps there is an opportunity for Mr. Obama to demonstrate his own maturity. Would this not be the place for him to pull out his much ballyhooed skills in listening and respecting the opinions of others, particularly individuals from far away cultures for which he has little experience or understanding?
Asked about a passage in the story where a McChrystal aide describes the general as having been "pretty disappointed" after his first meeting with President Obama because the president "didn't seem very engaged," Gibbs said McChrystal will "have his attention tomorrow."
The vaguely veiled threat.
Barack Obama is in no way the equal of General McChyrstal in training, discipline, leadership, dedication, self-sacrifice, or commitment to the service men and women under his command.
"Gibbs just said parents of the more than 90,000 US troops in Afghanistan need to be confident that the command structure -- meaning McChrystal -- is "capable and mature enough" for this mission."
Jake Tapper feels the need to clarify for us who it is he was identifying as not being mature enough to hold a command position. Now why might that be, one wonders?
"All options are on the table," Gibbs said, though the president believes the general should be given a chance to explain himself. Gibbs declined to say whether the general's job is safe, saying the public would know more after the meeting."
Does this president of the United States not remind you of Lucius Aurelius Commodus from
'Gladiator'
? A self-obscessed, lying, power crazed egomaniac that demands respect on penalty of death, but in truth has earned none?
Well, on to the pressing question of the day:
What is the president angriest about?
"We're distracting from an enormously important mission," Gibbs said.
Oh for crying out loud. This is the first time this mission ever seemed to have any importance to the president...
.... which might explain General McChystal's frame of mind.